A Brooklyn Heights Bathroom Floor Gets a New Look with Our Grout Cleaning Services
February 25, 2023
Maintaining bathrooms can be daunting as they are subjected to constant wear and tear daily, leading to damage and decay. This can make the process of keeping them clean and tidy quite challenging. Recently, a Brooklyn Heights, NY, resident had been struggling with cleaning her bathroom. Despite regular cleaning, there was no improvement in the surface's condition. After multiple failed attempts, the owner decided to seek professional assistance.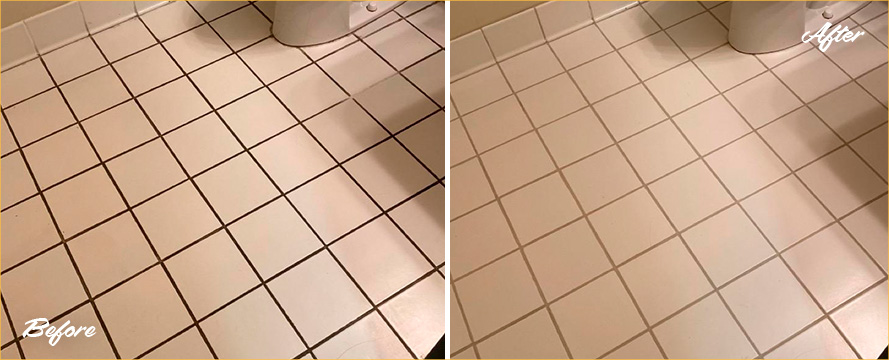 Luckily, she discovered Sir Grout Brooklyn with a quick internet search for
grout cleaning services in Brooklyn Heights, New York
. She was directed to our website, where she found all the needed information. She browsed through our user-friendly site, read some of our blogs, and went through the five-star reviews we receive daily. The owner was convinced that Sir Grout Brooklyn was the best option, and hoping to solve her problem, she filled out the "Request a Quote" form, asking for a free evaluation.
As the owner requested, we visited her house for an in-home consultation. The owner shared more details with us, and we assessed the situation. Upon entering the shower, we immediately noticed several issues that needed to be addressed. The grout had deteriorated and acquired an unsightly tone, while the tiles were shabby and unappealing, making the surface look unclean. Additionally, the grout needed sealing as it is a porous mixture that can absorb external agents, causing more damage over time. To prevent further deterioration, it was imperative to apply a special sealant.
After identifying the problems, we discussed a solution with the owner. It was clear that the restoration required professional attention, so we suggested our grout cleaning services. Our top-notch renewal process would improve the surface's condition and give the bathroom floor a refreshed look. We demonstrated the efficacy of our methods by performing a brief test before providing a quote. The owner was pleased with the results and accepted our offer, hiring us immediately.
After the inspection, we returned to begin the job by following a thorough multi-step process for optimal results. First, we used our exclusive cleaner to clean the surface. Our product won't cause any damage because it doesn't leave a residue, and it's made with top-quality ingredients. Once everything was spotless, we continued with the grout repairs.
Regular cleaning methods are ineffective against stains, discoloration, or severe damage, making it hard for many homeowners to achieve the desired results. But at Sir Grout Brooklyn, we have the tools and expertise to restore any surface. We painstakingly worked on the bathroom floor, giving the grout lines a complete renovation. We sealed the surface with Sir Grout's flagship sealant, ColorSeal, to finish the job.
Tiled surfaces in high-traffic areas are subjected to heavy wear and tear, leading to quick deterioration if improperly maintained. Following our recommendations is the best way to achieve optimal maintenance procedures. We recommend setting up a weekly cleaning routine using only pH-neutral products, such as
Sir Grout's Natural Hard Surface Cleaner
, which is non-toxic and safe for everyone in the house, including pets.
Our product offers many benefits and impressive results, surpassing any other option on the market. We discourage using soap-based substances, as they contain harsh agents that can damage the surface and leave a residue that seeps into the grout, causing stains, discoloration, and other issues.
Mold and mildew are a threat. These fungi thrive in damp areas, live in darkness, and feed on soap scum. To prevent their growth, it's essential to keep the area well-lit, provide a source of fresh air by leaving the door ajar or window open, and always dry the surface with a squeegee, a towel, or a terry cloth. Regular squeegeeing also helps to minimize the accumulation of dirt, keeping the area spotless.
If you're looking for a reliable grout cleaning service with exceptional results, Sir Grout Brooklyn is your go-to solution. Get in touch with us today by calling
(718) 770-3222
or by filling out our "Request a Quote" form to schedule a free in-home consultation. To see more of our work, check out our
picture gallery
, and consider subscribing to our
newsletter
, and don't forget to subscribe to our newsletter to stay updated on our latest info and promotions.
Our high-quality product offers unmatched defense, warding off dirt, grime, and other external agents, reducing deterioration, and making cleaning routines easy and fast. ColorSeal gives the grout a uniform color and a brand-new appearance, improving the surface tenfold. It comes in various colors, so our clients can match the tiles with the grout.
The restoration was a complete success, as we addressed all the issues and gave the surface a beautiful overhaul. It was time to call our client and show her the results. The owner was overjoyed with the renewed appearance of the shower. She was highly pleased, as everything looked perfect and better than expected. Before we left, she expressed gratitude and promised to recommend our services to everyone.