A Phenomenal Grout Recoloring Overhauled This Dull Shower Floor in Carroll Gardens, NY
January 14, 2023
Grout maintenance is essential to keep tiled surfaces looking beautiful. However, the task can be challenging, and some issues may require more than a store-bought cleaner. A Carrol Gardens, NY, resident wanted to spruce up her shower. She was not happy with the color of the grout, and she found the tiles shabby and unsightly. After considering her options, she decided it was best to look for professional assistance.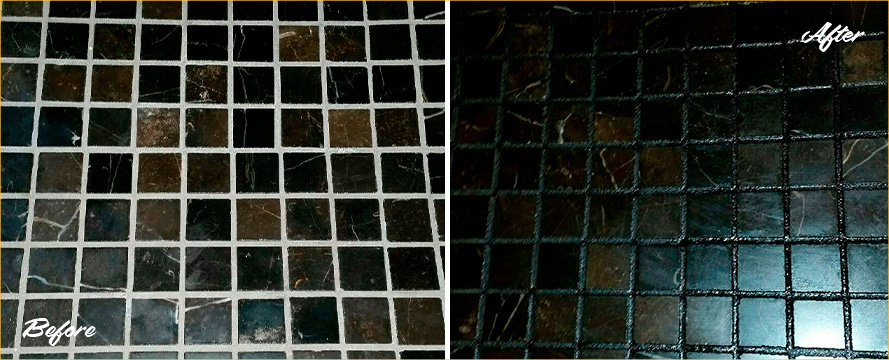 Thankfully, she was able to find Sir Grout Brooklyn through an online search. By typing
grout recoloring services in Carroll Gardens, New York
, into her search engine, she was directed to our website where she found all the necessary information. After browsing our user-friendly site, reading some of our informative blog posts, and seeing the numerous five-star reviews we receive daily, she became convinced that we were the best option for her. Hoping to solve her problem, she filled out our "Request a Quote" form to request a free evaluation.
Upon receiving her request, we promptly arrived for an in-home consultation at her residence. The owner shared more details with us, and we proceeded with the assessment. While inspecting the shower, we noticed the problems. The grout had a dark and unappealing appearance, and it required sealing. It was essential to address this problem as the grout is porous and can absorb external agents, which could cause more damage. It was imperative to apply a special sealant to prevent further deterioration.
After conducting a thorough inspection, we proposed a solution to the owner. It was determined that the renovation would require professional assistance. With our grout recoloring services, we would revamp the surface and achieve the results that the owner desired. Before providing a quote, we conducted a brief test to demonstrate the effectiveness of our methods. The results were fantastic, and the owner was thoroughly impressed, leading her to hire us immediately.}
After the inspection, we returned to start the job. To achieve the best possible results, we followed a thorough multi-step process. First, we cleaned the surface using our exclusive cleaner, which is made with top-quality ingredients and leaves no residue. After that, we steam-cleaned the area to remove embedded dirt. Once everything was spotless, we continued with the grout repairs.
Regular cleaning methods are ineffective against stains, discoloration, or severe damage, making it difficult for homeowners to achieve the desired results. This is where Sir Grout Brooklyn comes in; we have the tools and expertise to restore any surface. We painstakingly worked on the shower, giving the area a complete renovation. To finish the job, we sealed the surface and enhanced the color of the grout using Sir Grout's flagship sealant, ColorSeal.
ColorSeal is a high-quality product that provides unmatched defense against dirt, grime, and other external agents, reducing deterioration and making cleaning routines quick and easy. It gives the grout a uniform color and a brand-new appearance, improving the surface tenfold. With a wide range of colors available, our clients can easily match the tiles with the grout.
The restoration was successful as all the issues were addressed, and the surface was beautifully overhauled. We were ready to call our client and show her the results. The owner was thrilled with the renewed appearance of the shower and commented that everything looked perfect and better than she expected. Before we left, she expressed gratitude and assured us she would recommend our services to everyone.
Showers endure heavy wear and tear, leading to damage and decay. For this reason, they require proper care. To achieve optimal maintenance, we recommend following our suggestions. Start by setting up a weekly cleaning routine, using only pH-neutral products like
Sir Grout's Natural Hard Surface Cleaner
.
Our product offers incredible benefits and delivers impressive results, surpassing any other option on the market. It's also non-toxic and safe for everyone in the house, including pets. We strongly advise against using soap-based substances, as they contain harsh agents that can damage the surface and leave a residue that seeps into the grout, causing stains, discoloration, and other issues.
Mold and mildew pose a significant threat to showers, so measures against their growth are crucial. These fungi thrive in damp areas, darkness, and feed on soap scum. To prevent this problem, keep a light on, provide a source of fresh air by leaving the door ajar or window open, and always dry the surface with a squeegee, a towel, or a terry cloth. Squeegeeing regularly also helps minimize dirt buildup, keeping the area spotless.
As you can see, Sir Grout Brooklyn's grout recoloring experts can give any surface a new look. Please don't wait any longer, and contact us today by calling
(718) 770-3222
or by filling out our "Request a Quote" form for a free in-home consultation. If you want to see more, please check out our
picture gallery
, and consider subscribing to our
newsletter
so you don't miss our latest promotions and updates.